Ramadan Fasting Dua (Sehri Iftari Prayer) in Arabic, Urdu, English
Searching for Ramadan Fasting Dua (Sehri Iftari Dua)? Indeed! You are at the ideal spot. Here! You can peruse the Duas of Sehar (Suhoor) and Iftar for fasting. Roza Rakhne ki Dua or Roza Kholne ki dua in Urdu, Hindi, and English are being shared.
There are explicit Ramzan Fasting Dua to do Niyyah toward the start and end of quick. The reason for discussing these Dua's is to make the goal of Fast with its verbal affirmation. These Duas are an approach to show our dutifulness to God and its orders and their recitation displays that we need His pleasure in our deeds.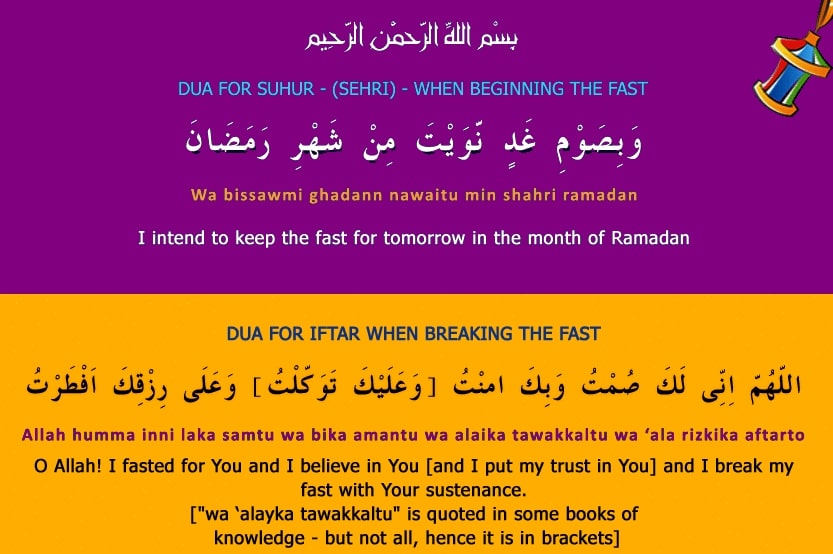 Sehri Dua in Urdu, English & Arabic
In Islam religion, there are explicit Dua' for each assignment which is recounted before doing that specific undertaking. In Arabic, we called these Dua's, Niyyah signifies 'aim'. Niyyah or Duas has incredible significance in Islam.
As Prophet (PBUH) said:
"The reward of deeds depends upon the intention and every person will get the reward according to what he has intended". (- Sahih Bukhari)
Sehri Dua in Arabic:
"وَبِصَوْمِ غَدٍ نَّوَيْتُ مِنْ شَهْرِ رَمَضَانَ"
Roza Rakhne ki Dua Urdu:
"اورمیں نے ماہ رمضان کے کل کے روزے کی نیت کی"
Sehri Niyyah in English:
"I intend to keep the fast for tomorrow in the month of Ramadan"
Iftar Dua in Urdu, English & Arabic:
Iftaar Dua in Arabic
" اللَّهُمَّ اِنِّى لَكَ صُمْتُ وَبِكَ امنْتُ وَعَليْكَ تَوَكّلتُ وَ عَلى رِزْقِكَ اَفْطَرْتُ"
Roza Kholne ki dua in Urdu
"اے اللہ! میں نے تیری خاطر روزہ رکھا اور تیرے اوپر ایمان لایا اور تجھ پر بھروسہ کیا اورتیرے رزق سے اسے کھول رہا ہوں۔"
Iftari Niyyah in English
"O, Allah! I fasted for You and I believe in You and I put my trust in You and I break my fast with Your sustenance"
Also Read: Virtues of Reciting Last 10 Surahs of Quran
Also Read: The Five Pillars of Islam